Find out how to set up your deals feature and to use this great Hubspot CRM tool to grow your revenue.
You want to use "Deals" feature so you predict and keep better track of potential revenue. Using "deals" helps you make sure:
A really good enquiry doesn't get forgotten about and is nurtured to a close.
You spend time on chasing high-priority money instead of lesser value tasks.
You know what money could come instead of waiting month-end invoice tallies (super helpful for being proactive).
Here are some video resources to help you with the Hubspot CRM Deals feature.
Set-Up Deal Stages so that they fit your sales Process:
How to Manage your Hubspot Deals
Set up Custom Deal Fields like Next Steps to make Deals Progress towards Closed Won Faster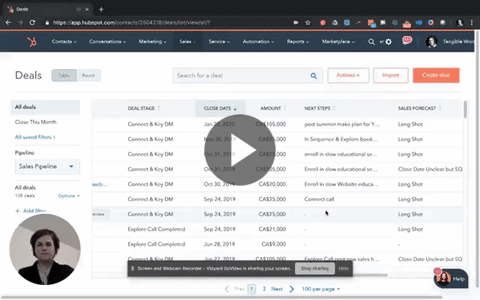 Use Deals To Chase the Money